Robert was born on 23 November 1819 of Robert Thompson and Sarah Lowes, at Monkwearmouth Shore. In 1837 Robert joined with his father and brothers Joseph Lowes, and John, and two of his father's brothers, to open a yard at Washington Staiths (Coxgreen). He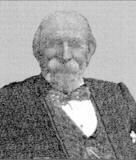 Robert Thompson

married Sarah Barbar, the daughter of Richard Barbar, a mason, on 9 June 1839 at Monkwearmouth. During the industrial depression of the early forties, the Coxgreen yard went out of business, and Robert found work in a Southwick yard. His father went to sea. After the depression, Robert Sr. became foreman for John Candlish, Southwick, and was soon joined by Robert Jr. and brothers Joseph Lowes and John.

In 1846 Robert Thompson senior and his three sons opened a yard at the North Sands, styled as Robert Thompson & Sons. No agreement was made, only the wage arranged. The father took 30s a week in wages, son Robert 27s and his brothers 24s; thus pointing to the leading position which son Robert had already secured.

The yard prospered. Young Robert was the chief draftsman.
Disputes were however arising between Robert and his father and in 1850 he left the yard. Joseph Lowes, who had designed the emigrant ship Achilles, persuaded his brother to rejoin the yard. A partnership agreement of 1853 gave Robert a quarter share in the yard. He then designed the first wooden vessel, built on the Wear, having iron diagonal straps. This was the 936 ton City of Carlisle, built for Edmund Graham, of Newcastle. She was a full rigged ship, the largest built by Thompsons up to that time, and was the fourth order received from the owner. Mr. Graham presented Robert Thompson Jr. with a gold watch to show his appreciation in designing the City of Carlisle, which proved to be one of the fastest ships in the eastern trade at that time.

Robert was 35, when he again decided to branch out on his own. On August 8, 1854, he bought the patent slipway and shipbuilding yard then occupied by John Candlish, from the executors of W. Tanner, and commenced to build at Southwick. The establishment of this business led to some confusion because there were now two Robert Thompson yards, each independent, for the next six years.

His first ship was the little wood barque Graces (449 tons), built in 1855 for Thomas Coxon, of North Shields, and there followed 21 of much the same type until he commenced building composite ships ten years later. In all, 18 very fine composite ships (iron frames with a wooden hull), more than any other Sunderland yard, were built by Robert - the first the Southwick in 1865 and the last in 1874.