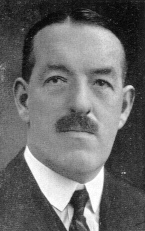 Robert Norman was born on 2 July 1878 at West House, Fulwell, of Robert Thompson and Georgiana Andrew. He married Helena Victoria Short on 6 June 1906. In 1909, they resided at Bedford House, Sunderland. Robert Norman Thompson became the Chair-man of Joseph L. Thompson & Sons, and was Knighted.
On the outbreak of war in 1914, Thompson's yard was selected by the Admiralty to develop a special kind of merchant ship, a standard type of cargo vessel of 5,200 tons called the "F-Type". A simple design of a bulk oil carrier called the "A-Type" was also built. Robert achieved the rank of Major during the war. High hopes for commercial advance after the war were not realized as a depression hit the country. Orders fluctuated up and down in the 1920's, and in the first half of the 1930's not a single order came in. The first new
order came in 1935 with the Embassage, Ship number 572, for Hall Brothers. It was to a modern design drawn up by Sir R. Norman Thompson and his eldest son, R. Cyril with a skeleton staff during the dead years of the long depression. From then on, business picked up, and was very good for nearly 40 years.


The Silverlaurel, built by Jos. L. Thompson in 1938.

War came again in 1939 and the shipyards, long neglected in peace-time, were once more a vital industry. The designers at J. L. Thompsons evolved a new merchant ship of 10,000 tons capacity that cruised at 11 knots with 2,500 ihp, named the Dorington Court. This ship became the model for the immortal Liberty Ship of World War II fame. The Empire Liberty, launched at the North Sands as Ship No. 611 in 1941 was the forerunner of 2,710 Liberty Ships built on both sides of the Atlantic. Sir R. Norman Thompson was Chairman of the Wear Shipbuilders Association 1929 - 1931, and also 1939 - 1942. In 1946, Thompson's took over the neighboring business of John Crown & Sons Ltd. Sir R. Norman Thompson died 2 October 1951, at age 73.