John Victor Thompson 1909-1970
John Victor was born on 10 July 1909, of R. Norman Thompson and Helena Victoria Short, at Belford House, Sunderland. John married Mary Theresa Nattrass on 22 Aug 1935. He died on 5 December 1970.
Mary Theresa Nattrass 1920-1980
Mary Theresa was born on 10 July 1920, the daughter of Henderson Nattrass and Theresa Ryan.
She died on 30 April 1980.
I have found the following children:
| | | | | | |
| --- | --- | --- | --- | --- | --- |
| | Diana Mary | Born 26 May 1946 | | | Married Robert Hugh Renwick |
| | Anthonia Victoria | Born 30 Mar 1948 | | | Married Olympus Andreadis |
| | Fiona Patricia | Born 23 Jun 1954 | | | Married David Anthony Plews |
Birth
John Victor Thompson
b: 10 Jul 1909 Christ Church

1909 3Q Sunderland 10a 670


son of Robert Norman and Helena Victoria Thompson
Mary Theresa Nattrass
b: 10 Jul 1920

1920 3Q Easington 10a 1074


daughter of Henderson Nattrass and Theresa Ryan
Marriage
22 Aug 1945
John Victor Thompson
Mary Theresa Nattrass

1945 3Q Easington 10a 1935


Father: Robert Norman Thompson, Shipbuilder
Children
Diana M. Thompson
b: abt 1946

1946 2Q Sunderland 10a 1114


daughter of John Victor Thompson and Mary Theresa Nattrass, Shipbuilder
Anthonia V. Thompson
b: abt 1948

1948 2Q Sunderland 10a 1676


daughter of John Victor Thompson and Mary Theresa Nattrass, Shipbuilder
Fiona P Thompson
b: abt 1954

1954 2Q Sunderland 1a 1517


daughter of John Victor Thompson and Mary Theresa Nattrass, Shipbuilder
Death
John Victor Thompson Died 5 Dec 1970

1970 4Q Northallerton 1b 2131


Buried at St. Lawrence Church, Kirby Sigston, North Yorkshire
Death
Mary Theresa (Nattrass) Thompson Died 30 Apr 1980

1980 2Q Richmond 2 2329


Buried at St. Lawrence Church, Kirby Sigston, North Yorkshire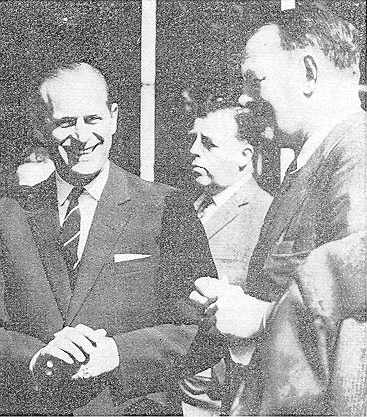 Wherever he went on Wearside today the sun smiled - and the Duke smiled with it. Here he shares a joke with Mr. Cyril Thompson, Chairman, and joint managing director of the North Sands Shipyard, during his visit. In the centre is Mr. Victor Thompson, joint managing director.
Sunderland Echo, Friday, July 26, 1963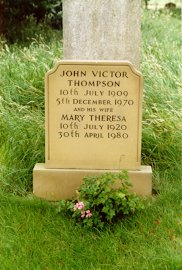 St. Lawrence Church,
Kirby Sigston, North Yorkshire


PHOTO BY T.G. WHITE
Summary of the Will of Mary Theresa Thompson (Nattrass)
of Kirby Sigston Manor, Northallerton, County of York
1920 - 1980 Dated 13 March 1980
(Her estate totaled £ 69,429.00)
Trustees and Executors:
Cyril Blythe Barker, Solicitor, and Dominic Thomas Scarre Rutter.
Nieces and Nephews
Helen Elizabeth Nattrass
James Ernest Nattrass
David Henderson Nattrass
Joanna Maria Nattrass
Legacy of £ 100, free of duty
Godsons
Terrance Anthony Fleming
David Charles Coatsworth
Legacy of £ 100, free of duty
Daughters
All that survive me
All household items, and all my real, and the residue of my personal estate