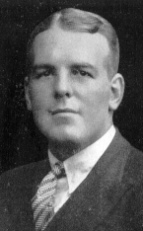 Robert Cyril was born 31 May 1907, the eldest son of R. Norman Thompson. He was educated at Cambridge, and served his apprenticeship in Sunderland's Laing Shipyard, before joining the family firm. Robert married Doreen Hermine Allan on 4 September 1934. He was then joint managing director of Joseph L. Thompson & Sons.
In the slump of the 1930s, the Sunderland shipbuilding firm of Joseph L. Thompson put the slack time to good use by investigating how to produce a cheap and economical-to-run merchant ship. At the firm's North Sands yard Cyril Thompson led a team which built a prototype, launched in 1935. The first vessel built at the yard since 1930, she consumed much less fuel than comparable ships. Seven sister vessels followed, and a superior version, longer and wider, the Dorington Court, was launched in 1939.
On Sept 2, 1940, just one day less than a year after Britain declared war on Germany, Thompson was summoned to a
high-level meeting at the Admiralty. Word of Thompson's economical yet dependable merchant ships, whose superior performance was achieved through design changes to the engine and hull, had reached the naval warlords.
With Britain's shipbuilding effort tied up largely in warships, Thompson was asked to visit the US to persuade it to build merchant ships of the Thompson design for Britain. Losses of existing ships were so large that unless a new source was found, and the ships were built quickly, Britain would literally be starved into defeat.
So Cyril headed a British Merchant Shipbuilding Mission to the United States with the object of ordering 60 ships from American builders. Mr. Harry Hunter, of the North-Eastern Marine Engineering Company, headed the engineering side of the mission. They took with them plans and designs of their own firms standard ships and engines.
Returning home after his first trip to America in connection with this mission, Mr. Thompson sailed in the Western Prince, which was torpedoed in mid Atlantic, in rough weather. He spent nine hours at the oars in one of the lifeboats before he and his fellow passengers were rescued by another ship. Mr. Thompson managed to save precious documents he was carrying back to Whitehall.