John was born about 1798, the 3rd son of Jefferys Allen and Susan Burlton, in Bridgwater, Somerset.
He was admitted a pensioner at Pembroke College, Cambridge, on April 17, 1817, and matriculated at Michaelmas that year. He was a "scholar", got his B.A. in 1821 and his M.A. in 1825. On Jan. 17, 1821 he was admitted to the Inner Temple and called to the bar in 1826. He would later be disbarred at his own request (nothing sinister, and not at all uncommon).
He and Lydia Augusta married by license of the Bishop of London. John Roy was then living in St George Hanover Square,and Lydia Augusta with her parents at Leamington, Warwickshire. It was a first marriage for both of them.
Soon after the wedding John Roy started planning a grand house for himself in Taunton - Lyngford House; it wasn't completed until 1846. In the meantime they lived in Wells, then moved to Gatchell House, Trull, Somerset, in the mid-1840s.
In 1844 John Roy's father died and the son was the executor of the huge estate, including Stocklinch Manor which the old man had acquired from Earl Poulett in 1823, along withe advowson of the parish church of Stocklinch Ottersay, as well as the manor house and grounds, and certain demesne lands, farms and hereditaments near Stocklinch (John Roy became entitled to all of this in 1848). John Roy came into a house at Lyme Regis, Dorset, 4,000 pounds and his father's books (and that was just in old Jefferys Allen's will. If a deceased was rich most of his assets never even got hinted at in the will).
John Roy was a JP, and recorder of Taunton, Andover and Bridgwater, 1841-61, and a Taunton Market trustee from 1850. He is mentioned in various histories of
Somerset. His will, drawn up on March 3, 1868, was proved on April 26, 1875, to his widow. There were houses all over the place. Lydia Augusta inherited his share in the houses and land at Stocklinch Ottersay and Stocklinch Magdalen, which he'd bought with one of his brothers (this was separate from the manor and advowson and all the rest of his inherited Stocklinch properties). She also got the land John Roy owned by himself - Ploughed Three Acres, Riddick's Mead and The Acre Piece - three parcels in Dunwear in the parish of Bridgwater. Lydia Augusta got all of this, all the money, and a lot more. She also received the annual sum of money from William Speke (a relative of John Hanning Speke, the African explorer), shared by John Roy's brothers Charles and William.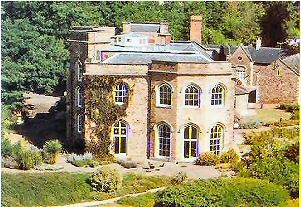 After John Roy's death Lydia Augusta continued on at Lyngford House for a while, but by 1881 was staying with a grocer, John Saunders, at the prestigious 1 Edgar Buildings, Walcot, Bath, Somerset.