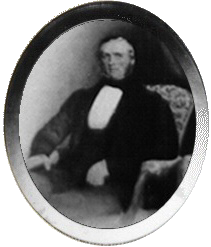 James was born on 11 January 1823, the son of Philip Laing and Anne Jobling, at Deptford House, Bishopwearmouth. At age 20, in 1843, he took over his father's shipbuilding business. He married twice, and had sixteen children. After the launch of his first ship, the Agincourt, built for Duncan Dunbar (1804-1862), he delivered one or more ships to this well known owner every year for the next twelve years. The Dunbar ships were famous cargo and passenger liners, and Laings enjoyed what was almost a monopoly in their building, until 1864, when the last of them, the Dunbar Castle, was launched.

The Laings were at the forefront when steel was introduced, and they began building oil tankers, and soon were specializing in this particular design. James' son Hugh came into prominence with the birth of the oil tanker, and concentrated his efforts on this new production. The result was that the Laings attracted

Mary Tanner 1816-1850 (1st Wife)
Mary was born on 24 February 1816, the daughter of Henry Tanner and Jane Thompson. She died at age 34 in 1850.
I have identified the following children:
world-wide attention and received many orders for this new design.
In 1897, James' career was crowned with a Knighthood. Sir James died in 1901. For 58 years he had controlled the destinies of the Deptford yard, and witnessed several revolutions in ship design. When he took over the management from his father, they were building little wood ships at Deptford of 300 to 500 tons. At the end of his life the same yard, greatly extended, was producing big passenger liners and oil carrying steamers in steel.

James was Chairman of the River Wear Commission for 32 years. He was also a Director of the Suez Canal Company.

Sir James Marr joined the firm in 1909, and became chairman in 1912, thus cementing a very close relationship between three leading Sunderland firms, Laings, Joseph L. Thompson & Sons, and Sunderland Forge & Engineering Company.