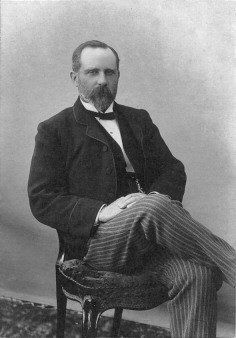 Sir. William T. Doxford


heodore was born on 1 February 1841, the eldest son of William Doxford and Hannah Pile. He was educated at Branham College, Yorkshire, graduating in 1857. He married Margaret Wilkinson in 1863. William joined his father in the shipbuilding business, and by 1875, he and his brother Alfred were partners in the firm. Several times, the Doxfords extended their premises and altered their slipway accommodations. William was MP for Sunderland from 1895 to 1906, and he was knighted in 1900.
In 1902, the yearly tonnage output had reached 44,000 tons, but two years later, the capacity was more than doubled by the completion of the East yard. The new premises, together with a fitting out quay, equipped with a 100 ton radial crane, was commenced in 1902. The original five births were scrapped to make room for three births of greater length and breadth. This enabled the firm to build vessels up to 540 feet in length and of 20,000 tons capacity. The result of these elaborate extensions was that in the next three years, 1905, 1906, and 1907, the output was 87,000 tons, 106,000 tons and 92,000 tons. The years 1905 and 1907 found Doxfords with the highest production of any yard in the world, and 1906 was practically a ship a fortnight, which was an achievement only surpassed many years afterwards.

The story of Doxfords in the realms of engineering is a fascinating one. In 1906 a design start was made on the Doxford Diesel marine engine, and in 1909 the first prototype was built. The design was for "an opposed piston, airless injection oil engine". Work was suspended during the 1914-1918 war, but was resumed in 1919. Side by side
| | |
| --- | --- |
| | Lady Margaret Doxford |
shipbuilding and engineering progressed to an amazing degree at Pallion until the time came when almost every vessel from a Doxford slipway was also engined by the firm. The Doxford diesel engine became world famous, and over a dozen other firms were licensed to also build it. Visit this website for complete details on the Doxford Engines. Theodore passed away on 1 October 1916, at age 75, and is buried in Bishopwearmouth Cemetery.

The family connection with the yard and engine works ceased in the 1920's when the company was sold to the Northumberland Shipbuilding Company.