James was born 9 September 1854, the son of Christopher Hall Marr and Ellen Bell. In his youth, he worked for T. R. Oswald, an early shipbuilder on the Wear, apparently learning a bit about shipbuilding. In late 1874 James accompanied Oswald to Southampton, but returned two years later. He married Mary Lynn on 18 Oct 1876. James also joined the firm of J. L. Thompson and Sons that year. In 1894, James was named to the J. L. Thompson Board of Directors. Two years later, James and Robert Thomspson established the Sunderland Forge and Engineering Company, with James as the Managing Director. The Sunderland Forge were specialists in the complete electrical equipment for ships, which included the manufacture of steam engine driven electrical dynamos. They also forged and machined propeller shafts, and other items such as anchors, and in fact made everything for a ship with the exception of the drive engines.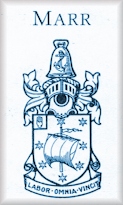 Work Conquers All

Upon the premature death of Robert Thompson in 1908, James was appointed Chairman of J. L. Thompson. A position he held until his death in 1932. After the death of Sir James Laing in 1901, that shipbuilding firm developed financial problems. James Marr joined that firm in 1909, saving the company, and becoming it's chairman in 1912. That same year he became chairman of the Wear Shipbuilder's Association for the next seven years. James was Knighted, and became a Baronet on 12 May 1919.
Sir James was chairman of J. L. Thompson & Sons Ltd., Sir James Laing & Sons Ltd., Sunderland Forge & Engineering Co., and The Silver Line (Shipowners).
In November 1925, during a severe slump in business, The Silver Line ordered six motor cargo ships of 9,000 tons each. The Laing shipyard built three, the Thompson shipyard built the other three, and they were all outfitted by the Sunderland Forge and Engineering Company, which at least brought temporary relief to the workers of Sunderland. Sir James acquired the Wolsingham Steel Foundry, in Weardale. His main interest seemed to be a massive hydraulic press, to use in making propeller shafts.