Hiram Craven Coulthard 1835-1881
Hiram was born about 1835, the son of William Coulthard and Margaret Robson, at Whitby, Yorkshire. Hiram was a civil engineer like his father and both his brothers. They were responsible for the building of a few of the railway lines in and around the Lancashire area. Unfortunately Hiram left Claudine (although he never divorced her) and went to New Zealand in 1878 with Jane Carter where he died shortly after in Napier on the 23rd April, 1881.
Claudine Mayhew 1836-1925
Claudine was born about 1836, the daughter of John Mayhew and Elizabeth Rapley, at Waltham Abby, Essex. After Hiram left her, and went off to New Zealand, Claudine never remarried.
I have identified the following children.
| | | | | |
| --- | --- | --- | --- | --- |
| Frank | Born 29 Jul 1865 | | Blackburn, Lancashire | Married Leona Maud Hamilton |
Birth of Parents
Hiram Craven Coulthard
b: abt 1835 c: 25 Sep 1835 Whitby, Yorkshire
son of William Coulthard and Margaret Robson
Claudine Mayhew
b: abt 1836 Waltham Abby, Essex
daughter of John Mayhew and Elizabeth Rapley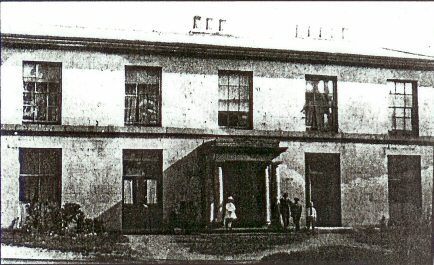 Grove Hill, Bentham, Yorkshire, the Coulthard home in 1851
Marriage
30 Sep 1858
Hiram Craven Coulthard
Claudine Mayhew
Lancashire

1858 3Q Wigan 8c 66
1861 Census
RG9-3155
8 April 1861
Poulton, Bare and Torrisholme, Lancashire
Craven Terrace
William Coulthard
Margaret (Wife)
John (Son)
Hiram C. (Son)
Clandiece (Dau)
Plus 2 Servants
Age 65
Age 66
Age 29
Age 25
Age 24
Railway Contractor & C.E.

Civil Engineer
Civil Engineer
Stamfordham
Whickhope
Newcastle
Whitby
Waltham Abby
Northumberland
Northumberland
Northumberland
Yorkshire
Essex
abt 1795
abt 1794
abt 1831
abt 1835
abt 1836
Children
Frank Coulthard
b: abt 1865 Blackburn, Lancashire

1865 3Q Blackburn 8e 326


son of Hiram Craven Coulthard and Claudine Mayhew
1871 Census
RG10-38
3 Apr 1871
Kensington, London
13 Kensington Park Gardens
Hiram C. Coulthard
Claudine (Wife)
Frank
Elizabeth Mayhew (MLaw)(M)
Joanna Mayhew (SisLaw)(s)
Walter Mayhew (BroLaw)(M)
Annie Mayhew (SisLaw)(M)
Percival S. Mayhew (Neph)
Plus 3 Servants
Age 35
Age 35
Age 5
Age 58
Age 33
Age 32
Age 32
Age 6
Civil Engineer




Solicitor
Whitby
Waltham
Blackburn
Waltham Abby
Waltham Abby
Waltham Abby
Newick
Wigan
Yorkshire
Essex
Lancaster
Essex
Essex
Essex
Lancaster
Lancashire
abt 1835
abt 1836
abt 1865
abt 1813
abt 1838
abt 1839
abt 1839
abt 1864
1881 Census
RG11-30
4 Apr 1881
Kensington, London
13 Kensington Park Gardens
Elizabeth Mayhew (Widow) Claudine Coulthard (Dau)(M)
Dorothy Mayhew (GDau)
Marian Mayhew (GDau)
Plus 4 Servants
Age 67
Age 41
Age 4
Age 3
Waltham
Waltham
Park Lane
Edinburgh
Essex
Essex
Middlesex
Scotland
abt 1813
abt 1836
abt 1876
abt 1877
Death
| | |
| --- | --- |
| Hiram Craven Coulthard | Died 23 Apr 1881 Napier, New Zealand |
1891 Census
RG12-595
6 April 1891
Croydon, Surrey
27 Sylvan Road
Claudine Coulthard (Widow)
Theresa H. Woolley (Sis)(M)
Florence Mayhew (Sis)(s)
Florence Woolley (Niece)
Edith Woolley (Niece)
Constance Woolley (Niece)
Lilian Woolley (Niece)
Plus 2 Servants
Age 54
Age 50
Age 37
Age 23
Age 22
Age 22
Age 19
Living on own means
Living on own means
Living on own means
Waltham Abby
Waltham Abby
Wigan
Manchester
Manchester
Manchester
Manchester
Essex
Essex
Lancashire
Lancashire
Lancashire
Lancashire
Lancashire
abt 1836
abt 1841
abt 1854
abt 1867
abt 1869
abt 1869
abt 1871
1901 Census
RG13-649
1 April 1901
Croydon, Surrey
27 Sylvan Road
Claudine Coulthard (Widow)
Theresa H. Woolley (Sis)(W)
Florence Mayhew (Sis)(s)
Constance Woolley (Niece)
Plus 2 Servants
Age 58
Age 54
Age 42
Age 26
Living on own means
Living on own means
Living on own means
Waltham Abby
Waltham Abby
Wigan
Manchester
Essex
Essex
Lancashire
Lancashire
abt 1842
abt 1846
abt 1854
abt 1874
1911 Census
RG14-161
3 April 1911
Croydon, Surrey
Ashburnham, Sylvan Road, Norwood S.E. (10 Rooms)
Claudine Coulthard (Widow)
Theresa Henrietta Wooley (Sis)(W)
Florence Mayhew (Sis)(s)
Frank Coulthard (Son)(M)
Plus 2 Servants
Age 75
Age 70
Age 57
Age 45
Private Means
Private Means
Private Means
Solicitor
Waltham
Waltham
Wigan
Blackburn
Essex
Essex
Lancashire
Lancashire
abt 1835
abt 1840
abt 1853
abt 1865
Death
Claudine (Mayhew) Coulthard
Died 29 Mar 1925, Age 89, Upper Norwood

1925 1Q Croydon 2a 504