George Petre Leslie Wymer 1876-1941


George was born about 1876, the son of George Bannatyne Wymer and Florence Marion Bright Smith, in London. He served in the Manchester Regiment as second in command. His last military appointment was Provost Marshall at Dublin Castle in the Irish rebellion of 1921. During this campaign he was severely wounded causing a crack in the skull, and was invalided out of the army. In recognition of his distinguished police record in Ireland, the Jockey Club appointed him in 1925 to organise a special force of detectives for racecourses, an appointment he held until his death. "He was largely responsible for smashing the gangs of crooks who infested the racecourses". Evening Standard Aug 6th 1941. He married first Margaret Grogan in 1908. She was one of 21 children. Her older brother Ewart, to win the hand of the girl he loved, made the first trek across Africa from Cape Town to Cairo lasting from the end of 1897 to February 1900. The marriage did not last, and in 1925 he married Sophie Snepp, "Prue" who died in 1936.


Margaret Grogan 1880-1969 (1st Wife)


Margaret was born on 19 January 1880, the daughter of William Grogan and Jane Sams, in Kensington, London.
I have identified the following children.
| | | | | | |
| --- | --- | --- | --- | --- | --- |
| | Norman George | Born 28 Jun 1911 | | | Married Mary Jean Hamilton Kinloch (1913-1999) |
Birth of Parents
George Petre Leslie Wymer
b: abt 1876 London

1876 1Q St George Hanover Square 1a 376


son of George Bannatyne Wymer and Florence Marion Bright Smith
Margaret Grogan
b: 19 Jan 1880 Kensington, London

1880 1Q Kensington 1a 195


daughter of William and Jane Grogan
Marriage
5 May 1908
George Petre Leslie Wymer
Margaret Grogan
Gravenhurst, Bedfordshire

1908 2Q Ampthill 3b 827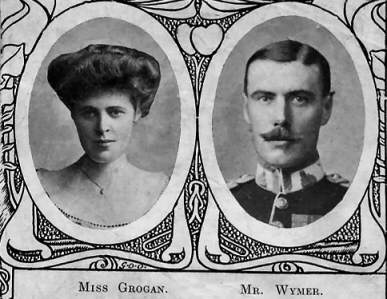 The Times, Thursday, May 14, 1908 MARRIAGES


WYMER : GROGAN - On the 5th inst., at St. Giles's, Gravenhurst, by the Rev. T. Collinson, brother-in-law of the bride, GEORGE PETRE LESLIE WYMER, the Manchester Regt., to MARGARET GROGAN, daughter of the late William Grogan, of 97, Queen's-gate, S.W.



1911 Census
RG14-15
3 April 1911
Ashton under Lyne, Lancashire
Moss Side (9 Rooms)
George Wymer
Margaret (Wife)
Plus 1 Servant
Age 35
Age 31
Army Captain
London
London
Middlesex
Middlesex
abt 1876
19 Jan 1880
Children
Norman George Wymer
b: 28 Jun 1911

1911 3Q Edmonton 3a 901


son of George Petre Leslie Wymer and Margaret Grogan
Marriage ends in Divorce
Death
Margaret (Grogan) Wymer
Died 1969

1969 4Q Chichester 5h 1807
---



Sophy Dorothea "Prue" Snepp 1893-1936

(2nd Wife)


Sophy was born in 1893, the daughter of Ernest Henry Snepp and Clara Fletcher, in Edmondsham, Dorsetshire.
I have not identified any children.




Birth of New Wife



Sophy Dorothea "Prue" Snepp
b: abt 1893 Edmondsham, Dorsetshire

1893 4Q Wimborne 5a 236a


daughter of Ernest Henry Snepp and Clara Fletcher
Marriage
abt 1925
George Petre Leslie Wymer
Sophy Dorothea "Prue" Snepp

1925 2Q St Martin 1a 1166
Death
Sophy Dorothea "Prue" (Snepp) Wymer

Died 9 May 1936, Age 42,

1936 2Q Watford 3a 1113
Death
George Petre Leslie Wymer

Died 5 Aug 1941, Age 65,

1941 3Q Uxbridge 3a 98
The Times, Tuesday, Aug 12, 1941 DEATHS


WYMER - On Aug. 5, 1941, suddenly, at Northwood, MAJOR GEORGE PETRE WYMER, D.C.M., late Manchester Regt., son of the late Major Wymer, R.H.A., and grandson of the late General Sir George Petre Wymer, K.C.B., A.D.C.

LLANDUDNO 7 Oct 1941 Probate


WYMER, George Petre - of 78 Ducks Hill-road, Northwood, Middlesex, died 5 August 1941, Probate Llandudno 7 October, to Norman George Wymer, photographer. Effects £4,740 15s. 9d.
SPECIAL THANKS
to John Stewart, a descendant of Capt. William Dixon, R.A, for the details provided above.