Sir Arnold Joost van Keppel, K.G., Baronet, 1st Earl of Albemarle, 1st Baron Ashford, 1st Viscount Bury, Page of Honour to the Prince of Orange (later HM King William III), Groom of the Bedchamber to King William III, Knight of Zutphen, Herr van der Voorst in Guelderland, Knight of Holland and West Friesland, Master of the Robes, and Major General.
His Lordship was born about 1670, the son of Osewolt van Keppel and Reinira Anna Gertruyde van Lintello tot de Mars. He graduated from Cambridge University with the degree of honorary Doctor of Laws, LLD.
When William of Orange came over from the Netherlands in 1688 to become William III he brought with him a number of his loyal subjects, including a 20 year old page boy by the name of Arnold Joost van Keppel. Arnold Joost was a young nobleman of Holland, of ancient lineage, whose ancestors had fought in the crusades, hence the Holy scallop shell in their Coat of Arms, with its allusion to pilgrimmage. Arnold became one of the king's favourites, and the recipient of a great number of gifts. He married Gertrude de Quirna van der Duyn in 1701.

In 1702 he retired to Holland, and took his seat among the Nobles of the States General.
King William III bequeathed him, in a codicil annexed to his last will and testament, the Lordship of Breevost, and 200,000 guilders.
The Keppel family founded, (1250-1275), the Augustinian Convent of Bethlehem at Doetinchem, Guelderland, (Klooster Bethlehem bij Doetinchem).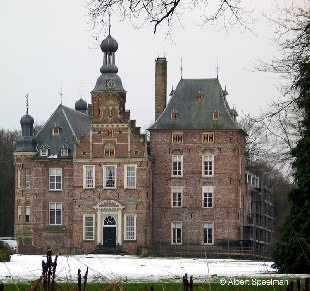 Kasteel Keppel, Guelderland, Holland